We are a full service HVAC contractor that provides complete heating & cooling solutions to residential clients in Virginia Beach.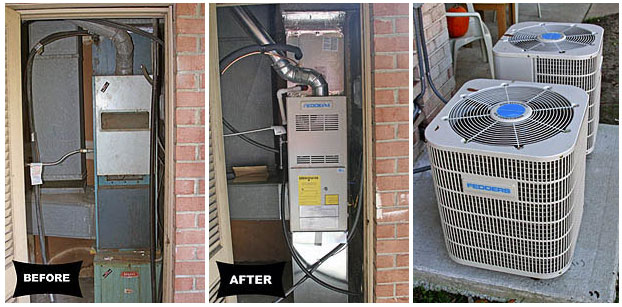 Mr. Plumber's HVAC technicians are experienced, and ready for any challenge from routine maintenance, complicated repairs or turnkey installation and replacement jobs are just a walk in the park for us. When you receive heating & air conditioning installation or replacement services from us, rest easy knowing that your cooling system was installed by the experts for optimal efficiency and reliability.
To follow up our installation and replacement work, we offer stellar support for your heating and cooling system with our preventive maintenance plans. We are a Virginia Beach HVAC contractor who will keep your system tuned so you enjoy efficient comfort through any season.
Mr. Plumber provides 24 hour quality air conditioning services in Virginia Beach. If you need an installation or replacement we can provide an estimate based on your home and comfort needs. We also repair and provide maintenance for all brands of air conditioners or heat pumps.
When winter arrives, your heater should be ready to keep your home warm. If your heating system is not keeping your home warm, Mr. Plumber can make same-day furnace repair. We are available for 24 hour emergency heating service. We also install and replace heating systems. From furnace installation or repair, to maintenance you will receive first class treatment from our HVAC technicians.
24 Hour Emergency HVAC Service
No matter what time your HVAC system stops working, you can rely on Mr. Plumber! Our heating & air conditioning technicians can solve your HVAC problems quickly. We know that a malfunctioning heating or AC system in need of repair can be uncomfortable and inconvenient, so we do everything we can to restore the comfort in your home. Whether you need HVAC repairs or you need your whole system to be replaced, there is nothing our team can't handle. We are available 24/7 to assist you!
Best Solution for HVAC in Virginia Beach
Mr. Plumber does what it takes to get the job done right the first time, which means using the latest diagnostic tools, maintaining a large inventory of quality replacement parts, and having trained, experienced HVAC installers, and service technicians available to you.
Our professional technicians are certified and equipped with the latest state of the art diagnostic equipment to quickly find the problem and repair it right the first time.
Customized HVAC Preventative Maintenance Programs
Mr. Plumber can also provide you with a customized preventative maintenance program to minimize downtime and equipment failure. Performed either annually or semi-annually, our precision tune-ups and professional cleanings restore system performance, improve comfort, and maintain lower energy costs.
Radio Dispatched 24 HOUR EMERGENCY SERVICE 7 Days a Week!